About Jakki Ford
Jakki Ford is an accomplished and versatile performing artist. She enjoys a growing reputation, nationally and internationally, as an outstanding vocalist with a 4-octave vocal range. As a professional actress and talented dancer, she is widely recognized for her artistic sensitivity, gracefulness and extraordinary magnetism on stage, television and film.
Jakki holds a Bachelor of Fine Arts degree from Wayne State University, Detroit, Michigan, majoring in Speech and Theater, and has completed many post-graduate courses in Vocal, Music and Drama at the University of Nevada, Reno, learning from acclaimed Master Artists. She has sung with the University Choral and Symphonic Choirs, toured the United States singing back-up for a major recording artist and joined the Nevada Opera Company as First Soprano in Verdi's Italian opera, Macbeth. Jakki will perform in the season's upcoming French production, Samson and Delilah.
Jakki commands a dynamic versatility of vocal styles that inspire, dazzle and delight audiences. She offers an exciting freshness to her interpretations of the many musical styles she presents, including popular music, Bosa Nova, Jazz, Motown, Gospel, Rock & Roll and Broadway, among others. Audiences become entranced with her exquisitely unique and totally delightful renditions of these often sung lyrics, which she seems to weave into her own personal tapestry of sound that reaches into the soul of each listener. And then, when the audience catches its breath, the applause begins and the encores are given. Then as she leaves, she turns and smiles her lovely smile, and the audience roars again.
Her favorites - the audiences, too - include compositions by Cole Porter, Gershwin, Loesser and Mercer, which she sings in coffee shops and cabarets. She has been the back-up singer for Rosemary Clooney at Carnegie Hall in New York, and has been featured in multi-million dollar spectaculars at the MGM GRAND in Las Vegas, in addition to singing Rock & Roll with Chubby Checker at the Nugget.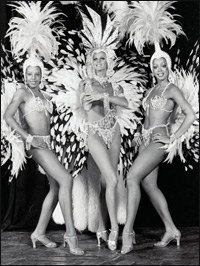 She is steadily expanding her fan base, encouraged by major stars, including Bill Cosby, Lena Home and Sammy Davis, Jr., to name a few. The tantalizing Cleo Laine told her "A bright future awaits you." From Motown to Opera, Broadway to Shakespeare, Jakki's talent is evenly spread around. Her many gifts were evident at a very young age. She began humbly enough in the Detroit Community Theater, dance workshops, modeling and competing in local beauty contests and winning. At age 19, she entered and won the title of "MISS BLACK MICHIGAN" and placed first in many other pageants.
Later, in New York, Jakki competed in a nationwide talent search, and was the first female ever to be considered as Vocalist and Ringmaster for the Barnum and Bailey Ringling Brothers Circus. She was one of the last three finalists.
Sidney Poitier cast her in the movie Stir Crazy with Richard Pryor and Gene Wilder. She also worked in such films as Electric Horseman with Robert Redford, Jane Fonda, directed by Sidney Pollack. Crocodile Dundee II and Bonfire of the Vanities with Tom Hanks and Morgan Freeman, New Jack City, with Wesley Snipes and Mo Better Blues with Denzell Washington, directed by Spike Lee. However, it was the live stage that captured her real interest. With exquisite charm, she has also walked the high fashion runways for Bob Mackie and Mr. Blackwell, the New York PRET, and Place Vendome of Italy.
Producer/Director Donn Arden, known as the Flo Ziegfeld of the 20th Century, spotted and hired her for all three of his multi-million dollar production shows in Las Vegas and Reno. Jakki was one of the first black females to be cast in the then "all white shows" on the Las Vegas and Reno strips. She received rave reviews.
Today, Jakki's sparkling eyes are set on stardom. She has met life's challenges with charm, grace and determination. The momentum is gaining speed, and her many talents are polished and ready for the great leap forward into the 21st Century. She says, "Watch me Fly!"
Professional Training
Wayne State University (Detroit, Michigan)

Bachelor of Fine Arts Degree, Major: Speech and Theater

Vocal Coaching

Danny Holgate, Catherine DeBoer, John Fay, Dr. Bruce Mayhall, Carol Ettman, Bonnie Koestner, Dr. Jesse Hall and Byron Peterson

Drama Coaching

William Hickey, Joe Behar, Joseph Bernard, Irene Baird and Dr. Bob Dilliard

Production Director

Donn Arden

Choreography/Dance

Fluff Lecoque and Cholly Atkins

Dance

Jazz, tap and ballet

Memberships

Screen Actors Guild (SAG), Actors Equity Association (AEA), American Federation of Television and Radio Artists (AFTRA)
Other Personal Details
Beautiful teeth, face and smile!

Auburn Hair

Sable Brown Eyes (Turquoise Contacts)

Height: 5 ft. 8 inches

Weight: 136lbs (36"-25"-37")

Personality: Wicked and warm. Full of fun and laughter!
Jakki's Achievements
Film
Electric Horseman w/ Robert Redford & Jane Fonda.
Director: Sidney Pollack
Cannonball Run w/ Burt Reynolds
Director: Hal Needham
Going in Style w/ George Burns
Director: Martin Brest
Looking to Get Out w/ John Voight & Ann Margaret
Director: Hal Ashby
Stir Crazy w/ Richard Pryor & Gene Wilder
Director: Sidney Poitier
Crocodile Dundee II

Director: John Cornell

Cotton Club

Director: Francis Ford Coppola

Bonfire of the Vanities w/ Tom Hanks & Morgan Freeman
Director: Brian De Palma
Funny About Love w/ Gene Wilder
Director: Leonard Nimoy
Mo Better Blues w/ Denzell Washington
Director: Spike Lee
New Jack City w/ Wesley Snipes
Director: Mario Van Peebles
Television
ABC

VEGA$

w/ Robert Urich

Happy Birthday, Las Vegas

TV Special

Super Stars & Classic Cars

TV Special, w/ Dick Clark

NBC

Hallelujah Hollywood

TV Special

Canada

Swinging Time

w/ Robin Seymour

Funny Side Up

USA Cable
CBS

Irving Berlin's 100th Birthday Celebration

at Carnegie Hall
Commercials
Amtrak
Sierra Computers
Anheuser-Bucsh

w/ Norm Crosby

Schmidt's Beer

w/ David Brenner

Reno! Reno!

w/ Jessie White
International Tours
National

Major Harris
Chubby Checker Show

International

Cordon Bleu Show

Japan

Taboo Music Hall

Greece

Danny Holgate Variety Show

Morocco
Opera
Macbeth

Nevada Opera Company

Samson & Delilah Nevada Opera Company
1st Soprano
Director: Ted Puffer
Theater
Nevada Repertory Company

Sunday in the Park with George

Nurse

Oh Coward!

Ensemble

Blame It On the Movies!

Ensemble

Wayne State University, Michigan

Electra

(Sophocles) - Electra

Taming of the Shrew

(Shakespeare) - Kate

Life and Death of King John

Constance

Dreamgirls

Deena
Big Band
Variety
Cabaret